Twilight
A lightscribe cover label for the movie Twilight.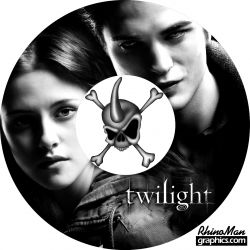 I was mildly interested with the story until I saw a sparkling vampire, then I realized this is, dare I say, the most boring vampire movie…EVER! Seems strange though, every girl on the planet seems to love this movie, while every guy hates it. Heres a tip for a sequel, even good vampires can be bad ass. See Blade, and the TV show Angel for supreme examples.
Released: 2008
Rated: PG-13
Director: Catherine Hardwicke
Staring: Kristen Stewart, Robert Pattinson, Billy Burke, Ashley Greene, Nikki Reed, Peter Facinelli
Another great lightscribe label made by The Rhino Man
- Welcome to Rhino Man Graphic's free lightscribe cover label website, Rhinoscribe!
- Please add Rhino Man on twitter (@TheRhinoMan) to get instant updates of when a new label is added to the website.
- If you need a specific label, or want the Rhino Man to do custom graphic work, contact me!