Frost/Nixon
A lightscribe cover label for the movie Frost Nixon.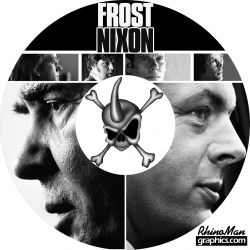 This is about the former President Richard Nixon, and his interviews with David Frost. Supposedly it is a good movie, but I think I prefer the 'Dick'. That being said, I like Ron Howard as a director, but that isn't enough to get me to watch this.
Released: 2008
Rated: R
Director: Ron Howard
Staring: Frank Langella, Michael Sheen, Sam Rockwell, Kevin Bacon, Matthew Macfadyen, Oliver Platt.
Another great lightscribe label made by The Rhino Man
- Welcome to Rhino Man Graphic's free lightscribe cover label website, Rhinoscribe!
- Please add Rhino Man on twitter (@TheRhinoMan) to get instant updates of when a new label is added to the website.
- If you need a specific label, or want the Rhino Man to do custom graphic work, contact me!