Transformers: The Movie
A lightscribe cover label for the movie Transformers: The Movie.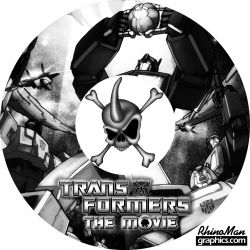 The beloved classic cartoon. I have always thought transformers were awesome, but I do not remember much from the cartoons or this movie.
Released: 1986
Rated: PG?
Director: Nelson Shin
Staring: Norman Alden, Jack Angel, Michael Bell, Gregg Berger, Susan Blu, Arthur Burghardt, Corey Burton, Roger C. Carmel.
Another great lightscribe label made by The Rhino Man
- Welcome to Rhino Man Graphic's free lightscribe cover label website, Rhinoscribe!
- Please add Rhino Man on twitter (@TheRhinoMan) to get instant updates of when a new label is added to the website.
- If you need a specific label, or want the Rhino Man to do custom graphic work, contact me!